Geometric Bear
Scroll down to see what the latest file is!
Flash-free files are usually only available for about 24 hours
I set this Flash free files page up as a thank you to fans and followers for the support. I will periodically release flash-free files that I would otherwise charge for. These will only be available for a short period of time so be sure to check in.
Get notified of flash-free files in the mailing list.
This is what my take on this design looks like. Send pictures of yours!
PLEASE READ CAREFULLY! This is a Geometric Bear Digital Download only! Geared for people with CNC, plasma cutters, laser cutters, etc. You will not receive this as a Geometric Bear in the mail. Since there is no way to return a digital download, there are no refunds either.
There are no instructions for this because it seemed easy enough to follow along with the pictures but feel free to send me an email with questions.
Sign up to be notified of future free releases here.
---
Some Recommended Products
Wood
The wood is from https://amzn.to/3oyG8Xq #ad
Stain
Layer two stain https://amzn.to/44YxhQP #ad
Top layer stain https://amzn.to/3Rrri3U #ad
Light Box
I also have been playing around with some better ways to get pictures. I used this light box and I like it. I think I will get the bigger one though https://amzn.to/3Pq8j6S. #ad
Tape
The tape I use is https://amzn.to/3epaUvY #ad
"As an Amazon Associate I earn from qualifying purchases."
Some info
The Geometric Bear was a challenge I have looked forward to for a while now. I don't typically do 2 dimension designs or layered designs, it's not really my skillset. I wanted to try anyway. I don't hate the way it looks but if someone prints one out, send me the pics! Hopefully I will learn how to do this.
The whole assembly is about 10 inches tall and about 8 inches wide.
File types included are SVG format.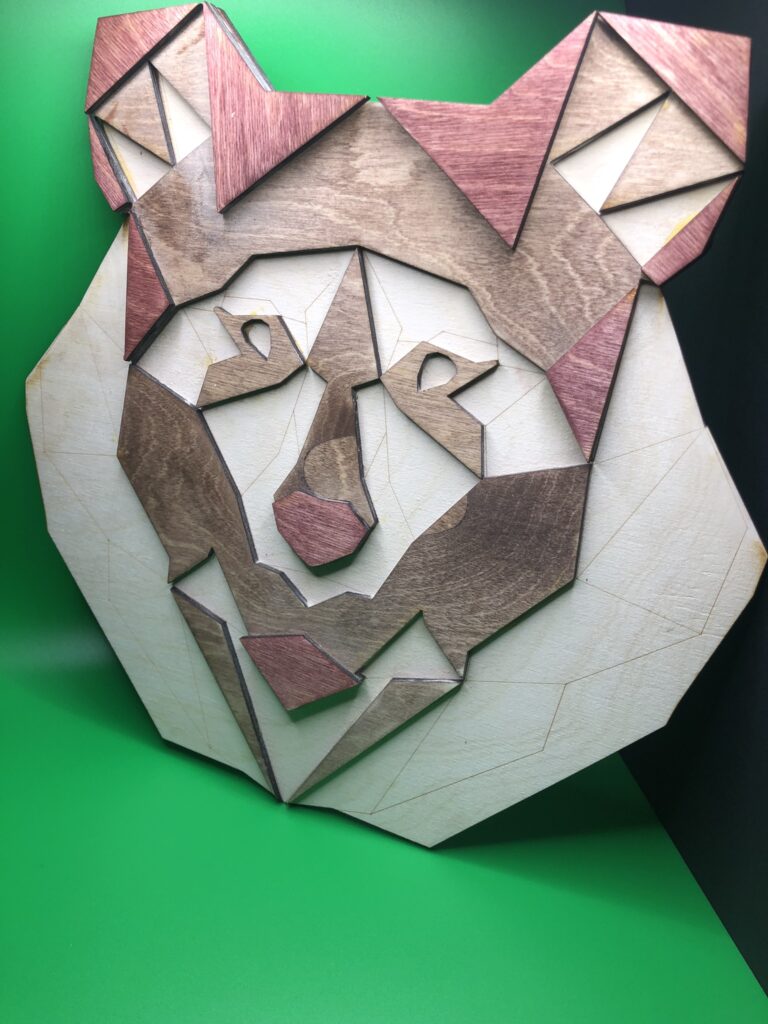 Geometric Bear
Say thanks by clicking any of the ads. You don't even have to buy anything! Threetoedbear.com is a participant in the Amazon Services LLC Associates Program, an affiliate advertising program designed to provide a way for websites to earn advertising revenues by advertising and linking to Amazon.com. Some of the links below are affiliate links. This means that, at zero cost to you, I will earn an affiliate commission if you click through the link and finalize a purchase.